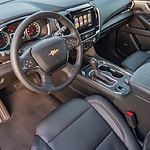 No one wants to feel short-changed by buying a new vehicle that offers little in the way of tech amenities, but that won't be a problem if you choose a Chevrolet Traverse from Harbin Chevrolet. This popular SUV line provides seating for up to eight and comes equipped with features that are designed to appeal to the most tech-savvy of drivers.
The Traverse includes USB charging ports throughout the cabin for the convenience of riders in the back as well as in the front row. You're also sure to love the built-in access to Apple CarPlay and Android Auto that's now available across the line-up.
If you already utilize Amazon Alexa for shopping or home management, you'll be able to take advantage of this service from your Traverse as well. An optional onboard navigation system will also be there to help you find your way around Scottsboro or anywhere else that you need to go.