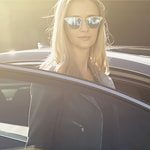 No matter how long you drive, glare is always a significant issue, whether night or day. If you cannot see more than a few seconds, you can feel like you are in an unsafe situation. At Harbin Chevrolet in Scottsboro, AL, we have a few tips to help you minimize the glare while you drive.
If the issue for you is mostly glare from the sunshine, polarized sunglasses may help alleviate some of it. However, you may also need to have a crack or a chip fixed in your windshield. Also, make sure that there are no objects on your dashboard that tend to be shiny.
Night glare is usually a more significant issue because your visibility is already lowered. Practice using your peripheral vision so that the oncoming headlights aren't as bright for your eyes. Also, you can focus on the lanes on the road if someone leaves their bright lights on, and then refocus once they pass.